The William and Flora Hewlett Foundation has named Charmaine Jackson Mercer, a leader in education, government, philanthropy, and nonprofit arenas, as its first-ever Chief of Equity and Culture, the foundation said today.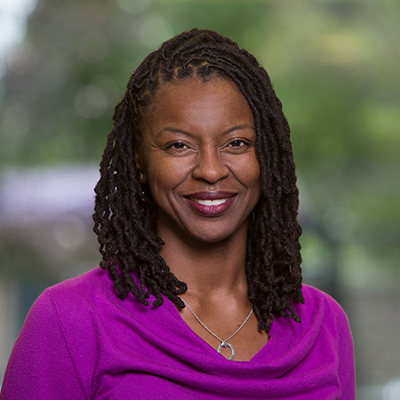 In this newly created senior role, Mercer will oversee external grantmaking related to racial equity, including a new 10-year, $150 million racial justice initiative. She will also serve as an internal resource on racial equity in the foundation's grantmaking, and will help champion and shape diversity, equity, and inclusion efforts within the foundation. Mercer, who currently serves as a program officer in the foundation's education program, will report to the foundation's president, Larry Kramer.
"Charmaine is an inspiring and collaborative leader, and I am absolutely thrilled that she will take on this new role," Kramer said. "Her depth of experience in nonprofits and racial equity, together with her commitment to our mission and deep familiarity with the foundation's work, people, and values, makes her the ideal person to help the foundation do better in addressing racial equity and justice."
"The racial reckoning of 2020 has made clear that our nation is at an inflection point, and the Hewlett Foundation has taken a step down a path toward being a stronger, better institution that contributes to a more just America," Mercer said. "I am humbled and excited by the opportunity to shape what is to come for Hewlett and to work with my colleagues, peers, and partners to adapt our institution, learn and share as we continue this journey, and advance the cause of racial justice for all."
Mercer will assume her new role in mid-April, enabling a smooth transition for current grantees in the foundation's teaching and learning portfolio. Among her first priorities will be recruiting a director to develop and manage the new racial justice initiative.
The creation of the Chief of Equity and Culture role was first announced last summer as one among many steps the foundation is taking to address systemic racism. In addition to committing to develop a new racial justice initiative, in 2020 the foundation provided $18 million in support to groups combatting systemic racism: the Democracy Frontlines Fund, a collaborative effort with the Libra Foundation and 10 other funders, as well as individual awards to 15 organizations advancing the cause of racial justice across a broad swath of issues, from health to education to human rights.
The foundation also committed to strengthen its internal capacity through an ongoing process of education, discussion, exploration, and relationship-building specific to the issue of system racism. So far, that has included one-on-one coaching for every member of senior management, as well as facilitated conversations for individual teams. Mercer, as the new Chief of Equity and Culture, will design and further develop that ongoing program of internal learning.
Mercer is currently a program officer in the Hewlett Foundation's education program, where she has helped refresh and implement a K-12 teaching and learning grantmaking strategy that centers equity. She previously served as a director and senior researcher for the Learning Policy Institute and as vice president for standards, assessment, and deeper learning at the Alliance for Excellent Education, a national policy and advocacy organization that focuses on secondary schools. She has also held various positions on Capitol Hill, including as a senior staffer for the House Appropriations Subcommittee on Labor, Health and Human Services, Education, and Related Agencies and a senior staffer for the House Education and Labor Committee. She is on the board of the Grantmakers for Education and serves as an advisory board member of the Black Female Project. A native Californian and member of Delta Sigma Theta Inc., she received her bachelor's degree in political science from San Diego State University and her master's degree in political science and Ph.D. in politics and education policy from Claremont Graduate University.